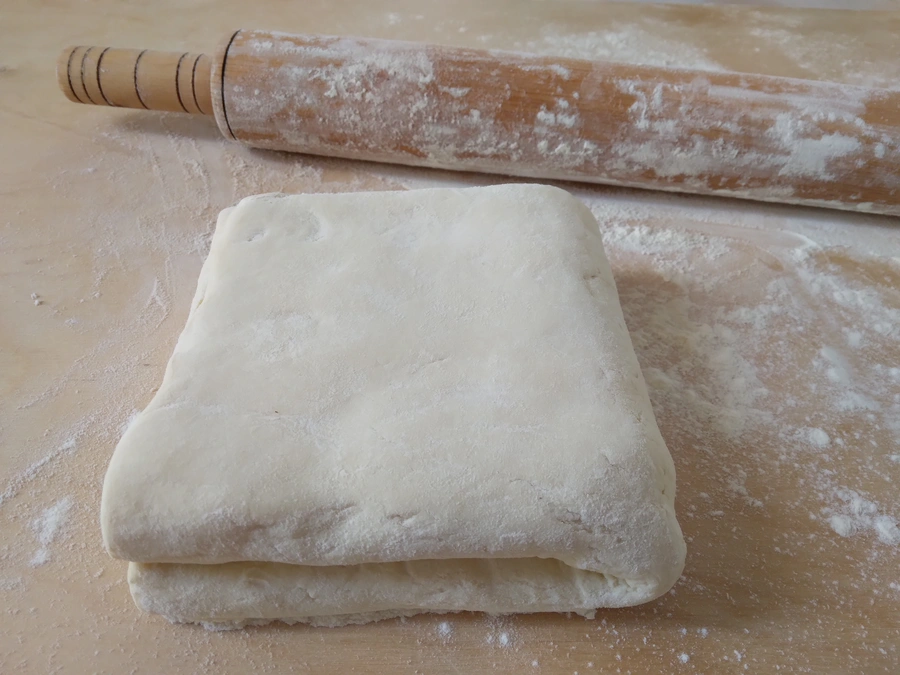 Puff pastry is a very useful when uninvited guests suddenly come over or if you want to make a delicious pie or a snack in few minutes for your family. One should always have a ready puff pastry in the fridge for any case. Here we offer you an easy recipe of a puff pastry that can be used for making penovani khachapuri, apple pie or other snacks.
Ingredients
1 kg flour
600 g butter or margarine (with butter it is tastier)
Salt
2 tablespoons of vodka or vinegar
One egg (optional)
650 ml water
Directions
Sift little bit of the flour into a bowl, add slightly soft butter chunks and mix well.


Shape a rectangle and flatten. Meanwhile mix rest of the flour with vodka(vinegar), salt and egg(optional).


Then add water to the mixture and knead dough. Roll out the dough with the shape of a rectangle; place the flattened butter in the center.


Fold an envelope and flatten only in one direction. Fold the top third down to the center, then the bottom third up and over that. Give the dough a quarter turn (to the left or right) and roll out again to three times the length. If the butter melts during the process put the dough in the fridge for 15 minutes. Cover the dough and chill for at least 20 minutes before rolling to use. You can also freeze it and use later.


Comments And Questions
---