Nazuki is a Georgian sweet bread which is very popular. Nazuki is famous for it's smooth texture, excellent smell, shining surface and delicious taste.
About The Author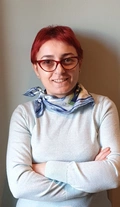 Irma Iantbelidze
Food Journalist, Culinary Book Author, Editor
Irma Iantbeldze is a well-known person in the field of professional culinary, and Food journalism. She is the author of 12 culinary books. Among them are bestsellers: Culinary Atlas of Georgia (8 volumes), Classical Georgian Cuisine, Khachapuri Book.