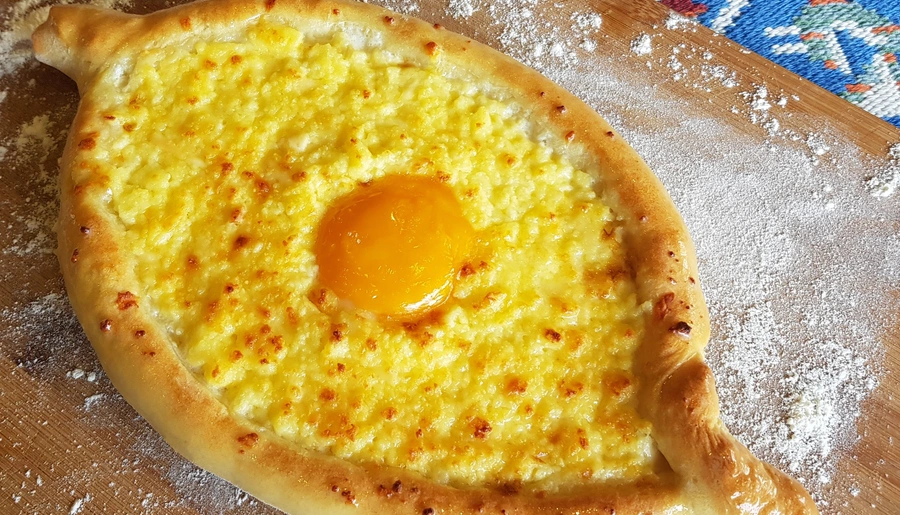 Adjarian khachapuri is one of the most famous dishes of Georgian Cuisine. The region of Adjara, where the dish comes from, lies on the coast of the Black Sea. That's why the shape of the dish looks like a boat and the egg yolk in the center symbolises the Sun.
Ingredients
300 g All-purpose flour
150 ml Water (warm)
10 g Dry yeast
500 g Cheese, grated
2 Egg yolks
20 g Butter
1 tsp Sunflower oil, for greasing
1 tsp Salt
Directions
In a bowl combine warm (not hot) water and dry yeast, stir well and set aside for about 15 minutes. The yeast will begin to activate and it forms a foam on the top. Add the flour little by little and start to knead the dough. You'll need less or more flour. Continue to knead on the flowered board until the dough is soft. Put the dough in a bowl, sprinkle with sunflower oil, cover with plastic wrap and let rest for about 40 minutes.


Preheat the oven on 220 C°. Divide the dough into 2 balls. Roll out each dough ball in an oval shape. Seal the longer sides together so that the dough takes a boat shape. Fill each boat with cheese. If the dough ball is 200 g, cheese filling must be 200 g too. Bake the khachapuri in the preheated oven, about 12-15 minutes, until golden. Then take it out, place the egg yolk in the center and continue to bake for another 1-2 minutes. Add butter before serving.


About The Author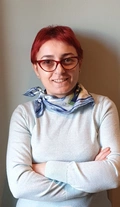 Irma Iantbelidze
Food Journalist, Culinary Book Author, Editor
Irma Iantbeldze is a well-known person in the field of professional culinary, and Food journalism. She is the author of 12 culinary books. Among them are bestsellers: Culinary Atlas of Georgia (8 volumes), Classical Georgian Cuisine, Khachapuri Book.
Comments And Questions
---