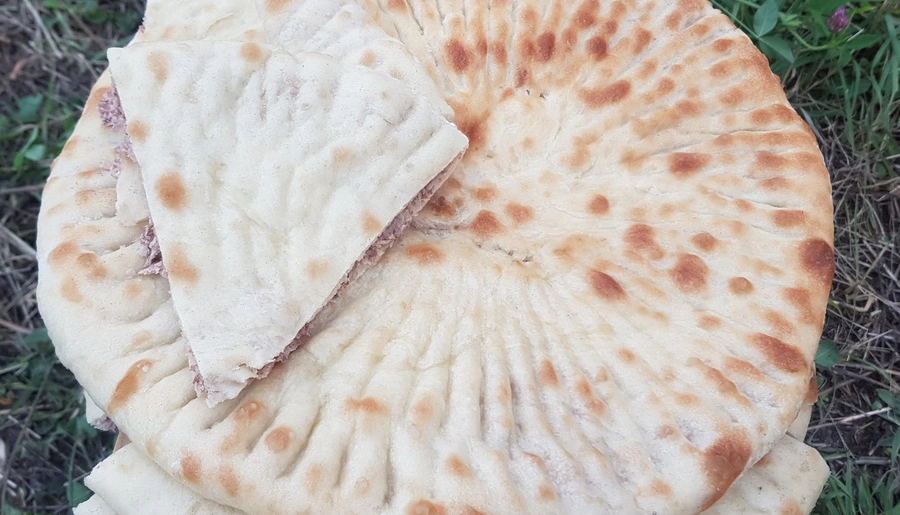 Lobiani is famous Georgian round-shaped bean pie that is extremely popular with locals as well as tourists. There are two versions of lobiani, one with ham and another plain, vegetarian version. The dish is extremely delicious and easy to prepare at home. You can either prepare it on the pan at low heat or bake in the oven. Also you can add or exclude onion to your taste. Here we introduce to you vegetarian version:
Ingredients
1 kg beans
1 kg flour
1 tsp Dry yeast
2 Onions
Salt to taste
Pepper to taste
Butter to grease
150 ml sunflower oil
Directions
Filling: Wash and boil beans. When beans are ready strain off extra water and smash or process beans through meat grinder. Meanwhile fry chopped or grated onion in 100 ml of oil, then add it to the mashed beans, season well and mix up.


Dough: Mix flour, 50 gr of oil, salt and pinch of sugar. Add warm water little by little continuously mixing ingredients. When dough is elastic and smooth cover and leave it for 1-2 hours to rise.


Divide dough into 7-8 parts, shape balls and let them rest for a while. Roll out each ball, place filling in the center, fold and flatten to 1 centimeter thickness using rolling pin and your hands. Bake round-shaped lobiani in the oven at 180 degrees until slightly golden-brown or in the pan from both sides. When it is ready brush lobiani with butter and enjoy.


Comments And Questions
---