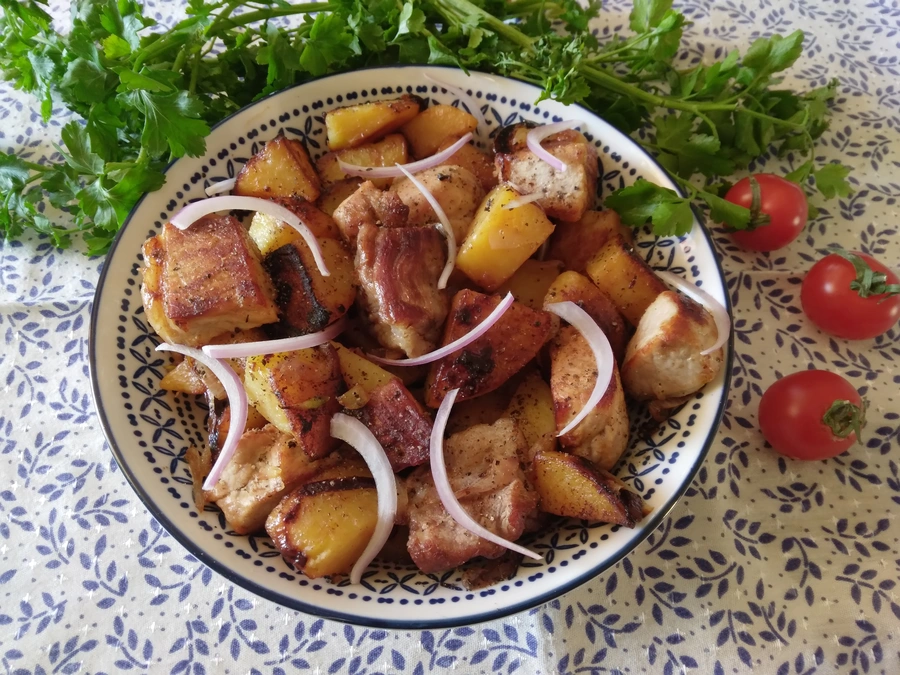 Ojakhuri is a simple, yet very delicious and popular dish in Georgian families. The name itself means family meal and it is made with fried meat, potatoes and onions. One will find Ojakhuri in the menus in many Georgian restaurants and tourists order it quite often. According to this recipe you can prepare delicious and hearty Ojakhuri for your family by yourself.
Ingredients
1.5 kg potato
1 kg pork (better mixed type of meat, moderately fat, with bones and without them)
500 g onion
Salt and pepper to taste
Directions
Roast medium size meat slices in oily pan at high heat until golden brown. First place fatty pieces and then add leaner meat.


After 5-7 minutes separately place fried pieces of meat on a plate and fry onion rings in the same fat. Add fried onion to meat on separate dish and fry potato in the same pan that you used for onions.


When potato is half cooked add meat and onion along with the juices they produced. Add salt and pepper to taste, mix well and continue cooking at low heat without covering pan with lid


Serve the dish warm. You can garnish it with Georgian's tkemali sauce or ajika, hot chili sauce.


Comments And Questions
---