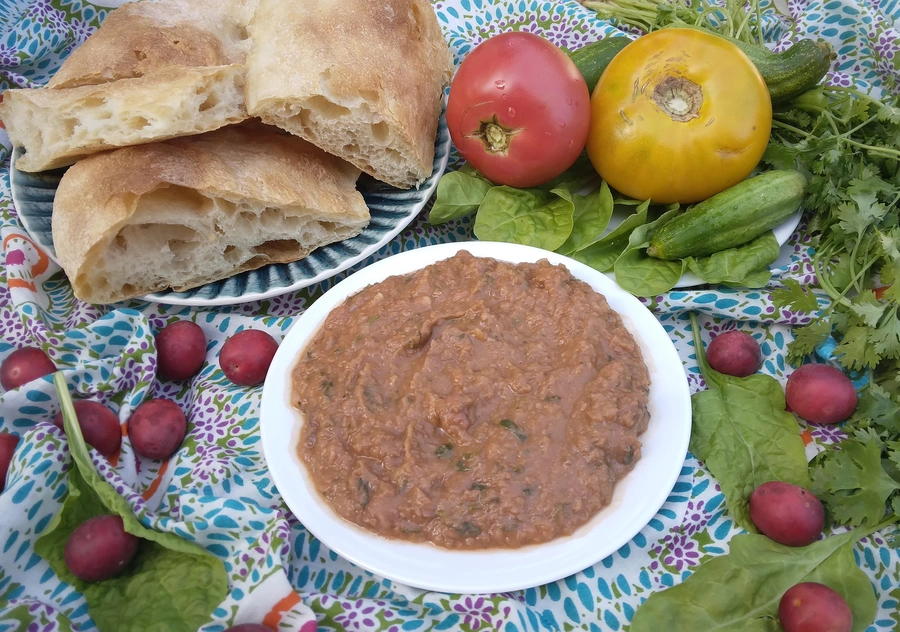 Lobio is a Georgian dish prepared with kidney beans and spices. The dish is extremely popular both with locals and foreigners. There exist several versions of traditional lobio, with crushed walnuts, more spices or even with tkemali sauce. Here we present the recipe of letter one, that will not be difficult to prepare at home for yourself.
Ingredients
600 g kidney beans
3 sprigs leek
2 onions
One bunch coriander
One bunch celery
1 teaspoon Svanuri salt (salt mixed with spices and garlic)
Oil
0,5 glass red tkemali sauce (sour plum sauce)
1 teaspoon dried savory
1 teaspoon red basil
3 cloves of garlic
Black pepper to taste
Directions
Place kidney beans in a saucepan, pour water and leave at least for 2 hours (better for whole night). Drain the excess water. Add hot water and boil beans at medium heat. If water evaporates add more water.


When beans are almost ready, add chopped leek, celery, savory and red basil. Separately fry finely chopped onion in oil and then add to the beans.


When beans are ready, add Svanuri salt, black pepper, tkemali sauce, crushed garlic and mix up gently. When lobio starts to boil, add chopped coriander and remove saucepan from the stove.


You can serve the dish with Georgian cornbread mchadi and some pickled vegetables.


Comments And Questions
---